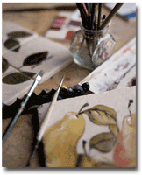 Hand Painted Tiles and Hand Painted Tile Artists are the focus of handpaintedtiles.org. Hand Painted Tiles can add beauty and elegance to any Kitchen Tile, Kitchen Tile Backsplash, Countertop, Bath, Sink, Shower, simply any Surface, Wall or Floor in the home. Hand painted tiles can also provide a unique look to Pools, Exterior Walls, House Numbers, Mailboxes and more. Hand painted tiles can transform any plain surface into a Designer Showcase, and will give any Home or even Business that Designer Look.
Those seeking a unique look for their Home or Business, and those having an appreciation for the creativity and the fine details that only a skilled Custom Tile Artist can provide, will experience the unmatched satisfaction and pleasure that only custom hand painted tiles can provide.
Handpaintedtiles.org, a community for the world of hand painted tile, and custom hand painted tile artists, is designed to be an informative resource for builders, designers, consumers and enthusiasts interested in hand painted tile, and to further its use in today's building projects. Here you will find one of the most extensive compilations of Hand Painted Tile Artists - OVER 100 listed in our Directory of Tile Artists, as well as informative facts and resources about hand painted tiles.
Our Site offers you a wealth of information from what types of hand painted tiles are available, to how to choose the right tile and the right tile artist, and where to find them. So if you are seeking information about hand painted tiles, you are in the right place, please continue your journey...
HELP US GROW! We are an open content site. This means that anyone may and is encouraged to contribute content and web link information to any area of our site, or even to suggest that a new area to be created. If you have content or a web site link you would like to add, about hand painted tile, please go to Submit Content and share your information with us, we will add all subject relevant contributions to www.handpaintedtiles.org. and www.hand-painted -tiles.org Thank you.