Majolica Mosaics Portland, Maine - Matisse inspired majolica tiles and mosaics for residential and commercial clients. Lilies, orchids and iris done in rich underglazes.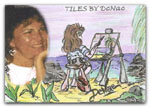 Tiles-by-Denae Kent, Washington - This site displays original paintings by DeNae. You can commission her to paint something for you. It includes awards won by DeNae for her works and showings wher you can see her tiles in person.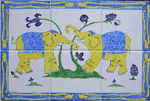 Maggie Jones Hand Painted Tiles, Swansea, Wales UK - Original designs featuring marine life, farm animals, Welsh themes and many more. Commissions, large or small are welcomed. A range of gift items is available including tile mirrors, potstands, coasters and name plaques.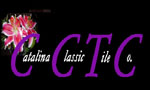 Catalina Classics Pacific Palisades, California - Custom Tile manufacturer and design studio, creating reproductions of celebrated styles, adaptations of classic designs, and innovative contemoray installations. Producing everything from architectural pieces to decorative pools, kitchens, and floors. VOTE SITE # 0108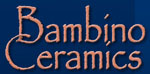 Bambino Ceramics Poulsbo, Washington - Painted and/or Glazed Hand Carved Releif Tiles . VOTE SITE # 0110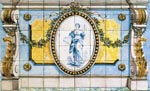 Gato Azul Tiles Unknown Location, Portugal - Reproductions from the XVI, XVII, XVII and XIX centuries based on Portuguese and European motifs.Our atelier, recently opened, was born from the joint efforts of a few family members with deep connections to the art of hand painted tiles.With our individual experience, acquired through the years, we can guarantee to our clients the highest product quality along with truly competitive prices. Our top artist, has in her curriculum dozens of murals and individual tiles sold to several countries in Europe, America, Oceania and Asia, installed both in private residences or public spaces. VOTE SITE # 0115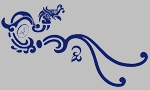 Envision Ceramic Tile Ashland, Oregon - Envision Ceramic Tile Studio specializes in custom handcrafted ceramic tiles and hand painted murals. VOTE SITE # 0048


Just Susan Originals Hillsboro, New Mexico - Art by Just Susan is an expression of the patron as well as the artist. Bright, fun, fantastical, earthy, spiritual simplicity Offering handmade tile and tile furnishings. VOTE SITE # 0022


Jensen & Marineau Handmade Sinks and Tile Portland, Oregon - A small, artist-owned studio producing slip-trailed blue and white porcelain, brush painted earth-toned stoneware, and colorful carved earthenware tile. Drawings from nature, farm, pond and sea life on durable handmade tile for kitchens, bathrooms, fireplace surrounds, and walls. VOTE SITE # 0023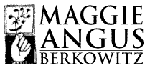 Maggie Angus Berkowitz Ceramic Tile Artist Cumbria, England UK - Hand painted tile Artist or Studio. VOTE SITE # 0074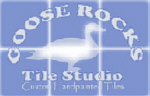 Goose Rocks Tile Studio Boxford, Massachusetts - Hand painted tile Artist or Studio. VOTE CODE 0062


Jerusalem Pottery - Armenian hand painted tiles Jerusalem, Israel - Armenian art continues to flourish in Jerusalem through the Karakashian family, who make traditional individually hand painted ceramic tiles, trivets, kitchen tiles and whimsical bible stories.VOTE CODE 0096


Kate Glanville Hand Painted Tile Carmarthenshire, Wales, UK - Hand Painted Tile Artist or Studio VOTE SITE # 0064


Kulia Tile Design Kappa au, Hawaii - Art tiles designed and individually glazed by artist Julie Kostes, featuring flowers, tropical scenes, turtles, cats, inspirational words, tropical fish, pineapples and more.. VOTE SITE # 0099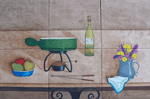 Creative Designs Vienna, Virginia - Representing seven gifted Artists, specializing in Custom Hand Painted tumbled stone tiles.Custom orders welcome. VOTE SITE # 0105


Metolius Ridge Tile Redmond, Oregon - Metolius Tile specializes in custom hand painted tile. VOTE SITE # 0109


Tile Murals by Mimi Spokane, Washington - Exquisite ceramic tile murals are custom designed, hand painted and kiln fired by master artist, Mimi Ross Blank. From Tuscan landscapes to wildlife... Visit online gallery. VOTE SITE # 0036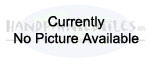 Rolling Raven Studio Ceramic Art Tiles Port Townsend, Washington - Rolling Raven Studio produces individually crafted colorful high relief stoneware tiles. Whimsical, lighthearted animals, insects, fish and birds. Suitable for indoor or outdoor installations. VOTE SITE # 0038


Tile Canvases Tucson, Arizona - Specializing in Custom Designed Ceramic Tiles. VOTE SITE # 0039


Robin Murphy Ceramics Bayfield, Wisconsin - Decorative earthenware tiles which intermix motifs of nature with vivid colors and patterns. VOTE SITE # 0098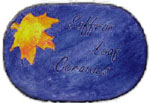 Saffron Leaf Ceramics Unknown Location - Unique Hand Painted Tile by "Diana Lynn". Your precious and rare images on hand painted tiles. Murals, Backsplash, Relief, Address, and Unique Gift Tiles. Let us help you design your perfect image on tile. VOTE SITE # 0103


The Tile and Iron Studio Alberta Canada - Manufacturer of Custom Hand Painted Tile and Wrought Iron address signs, garden accents, tables and more... VOTE SITE # 0106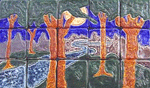 Workshop Wonders Missoula, Montana - Artist Melanie Jeffs specializes in ceramic accent tiles and handcrafted tile murals for kitchen, bath, fireplace and backsplash. VOTE SITE # 0107


Studiotile by "John Rigler" Grapevine, Texas - Handmade tiles with bright colors. These elegant tiles are not just painted, but are custom creations. The color is delimited by a groove put into the clay image. VOTE SITE # 0112


Stephanie Paige Studio La Jolla, California - Artist Studio gallery of Hand-Painted Tumbled Stone tiles and marble with beautiful vinyards to breath taking gardens. Stephanie's tile murals are differnt from your basic ceramic tile painting because the painting are on a rough surface such as stone giving an earth like feel. VOTE SITE # 0113


Rariries Montrieux Rairies, France - French Handmade terracotta tiles glazed and unglazed with trims and coordinated sinks. Frescoes available on request. VOTE SITE # 0114


Hunter Art and Tile Studio Scotland, UK - A small Scottish workshop specialising in tube lined tiles and ceramic murals of original quality rather than large quantity. Glasgow style art nouveau and celtic designs available on our online catalog


Alora Tile Coos Bay, Oregon - Hand painted tile Artist or Studio. VOTE SITE # 0018